As a wedding photographer in Bay Area, I am constantly looking for best wedding venues and locations that checks all the boxes. Rarely, I have come across a public spot for photography that has it all. With the aim of this blog post, I aim to highlight helpful tips for choosing this winning location for your wedding or engagement photoshoot.
Location Location Location...
Yes you must have heard it many times but the right thing to shortlist before you plan on your wedding or engagement photography is the stunning backdrop. Now if you are obsessed with architectural lines and historical landmarks, then the City Hall in San Francisco sets the perfect scene.
Regal Backdrop
Having lived in England, I miss the character of a historical buildings in South Bay. So you will see me running to San Fran whenever I have the opportunity to shoot small to large weddings.
Public yet private
The city hall is a public office and has tight security. If you follow the rules and stay within the county clerk's office, you will be just fine. At times, there are public events held at this location but mostly there will be many wedding photographers shooting along side so be mindful of their presence and give way.
Safety
San Francisco has the highest crime rates targeting photographers on the most popular locations like Palace of Fine Arts, Bakers Beach, Lombard street etc . Being a public office, this is one of the most secured place where I can shoot without having to worry about thugs around me. Even though I carry minimal camera gear, I have to go through the loading dock with additional security check but it's worth it.
Lighting
I love the natural light beaming through large windows on the 4th floor balcony. It has plenty of large windows with maze like designs that will help you create editorial style portraits. If you are lucky, the government office is many times adorned with colourful lighting inside & outside. If not I usually manipulate and create my own using Magmod modifiers.
Colour Palette
You can get away from wearing white or ivory and go bold as black, gold or red. It will be a success but after having shot this couples engagement shoot, I am awestruck with neutral shades of peach, grey and ivory as It really complements the orange lighting of the dome.
Parking
Plenty of parking available right across the street at Civic Centre garage. Approx. $6 an hour.
Versatility
There are so many hidden corners in this avant garde location that you possibly can't go wrong. I can be creative and use natural light for bright & airy portraits or go edgy to offer a completely moody look for epic images . #epicshot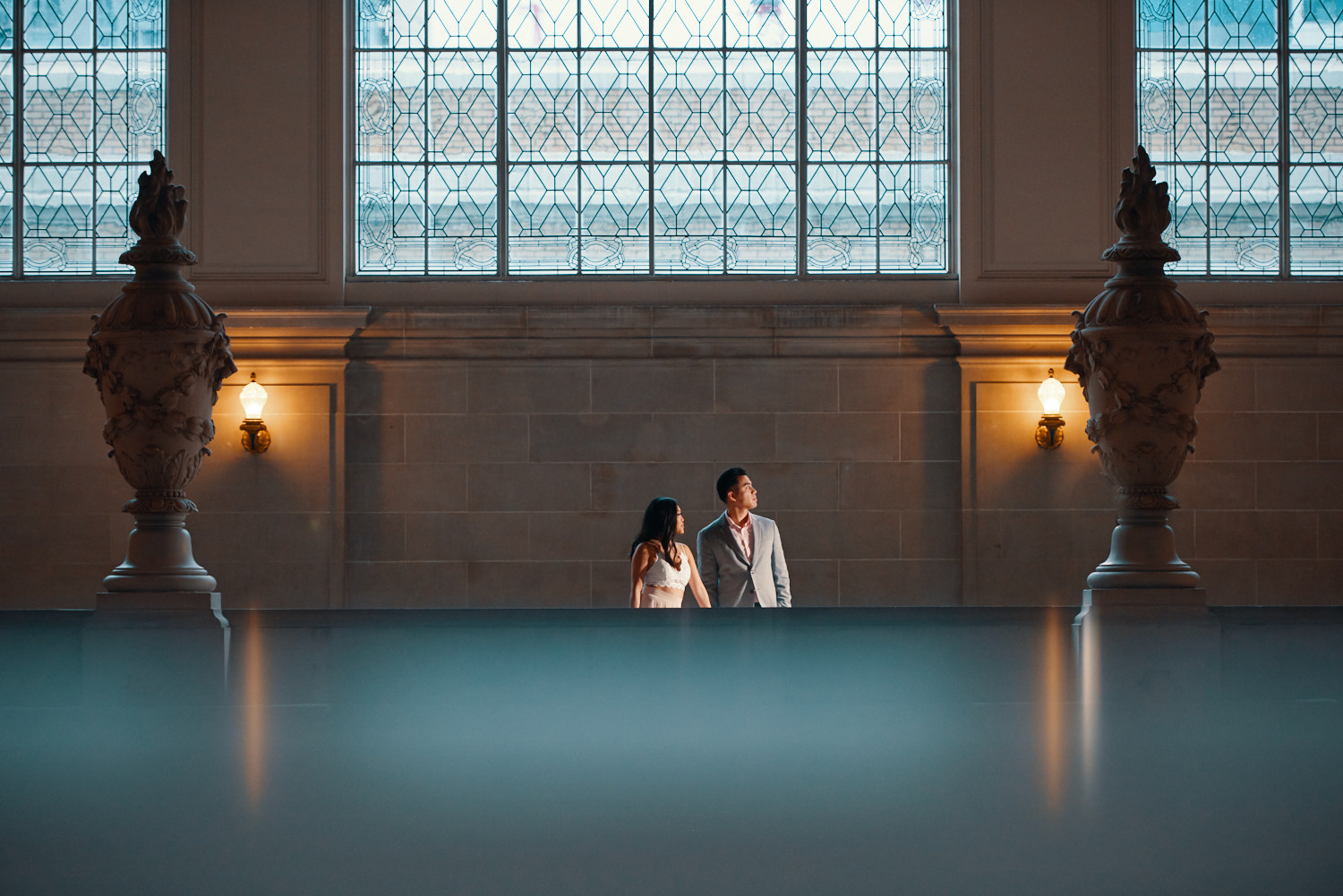 Cons
While I have talked about the pros of shooting at the city hall, I must share the challenges you are likely to face.
Planning your city hall shoot is imperative to achieving great imagery as result without much hassle. My personal recommendation is to pick Monday or a Tuesday. You can ready about SF city hall wedding photography pricing & planning page on A Few Good Clicks.
Assistant is a must - If you are like me who loves to create wide shots with dramatic lighting, hire an assistant and yes that adds to the cost of the shoot.
No Weekends - Yes it remains closed unless you are hiring the entire venue then weekends is a possibility but otherwise, you will have to take half a day off but I can assure you it will be the best wedding photoshoot you will ever have.